Who needs WalMart when you can find cool MP4 players at Kmart?

Even though Kmart may not be the retail giant they once were (in the USA at least), you can still find some good deals there if you look around.
So I was strolling around a Kmart in Sioux Falls, SD, and I found this...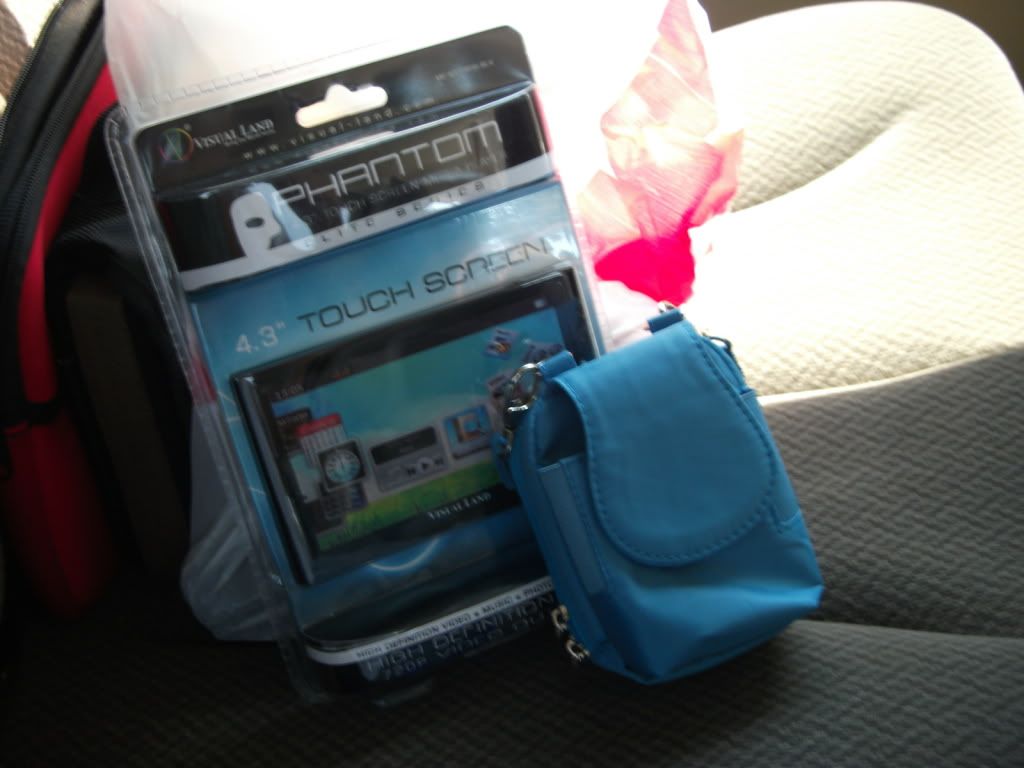 Camera bag came from a truck stop, not Kmart.

It's a "VisualLand" brand media player, called the Phantom. At a first glance, it looks like a very small Android Tablet. Alas, it's not an Android, but rather a fairly advanced MP4 player.
VisualLand "Phantom" MP4 Player from Kmart
by
cpd2005
, on Flickr
Here is the desktop interface, with my customized desktop I cooked up in Photoshop. According to the official website and manual, the Phantom runs a custom OS based on Adobe Flash. Like most MP4 players, it has the basic music and video playback functions, as well as an FM radio tuner, an ebook (TXT) reader, and a voice recorder. What this player does that many others don't is Adobe Flash SWF playback. Apparently, it's designed to play games in SWF format, but I loaded up some really old SWF animations from a long defunct toy company site, and they play fine!
It's a touch screen interface, and the UI makes extensive use of touch screen functionality. The touch screen is also very accurate despite being a resistive type. It did not come with a stylus, but the icons are big enough for your fingers to navigate through the UI quickly. The main desktop has three areas...the widget section to the left, the middle open spot where you place the widgets, and the function icons to the right. The widgets consist of a small music player, a small FM tuner, a calendar, a desktop background changer, a calculator, a stopwatch, a date/time display, and a simple clock.
Another fairly standard feature is the MicroSD card slot. You can load MicroSD cards up to 32gb according to the manual. (the manual is written in very good English BTW, but it could go more into detail about the Flash playback and how to use the "Applications".)
Below are more photos of the interface and functions...
VisualLand "Phantom" - Music Player Interface
by
cpd2005
, on Flickr
VisualLand "Phantom" - Music Folder View
by
cpd2005
, on Flickr
VisualLand "Phantom" - Additional Apps
by
cpd2005
, on Flickr
VisualLand "Phantom" - FM Radio Interface
by
cpd2005
, on Flickr
What I like best about the Phantom is the FM radio recorder function. It's the highest quality FM recorder I have come across. You can record FM broadcasts to either WAV, MP3, or WMA formats. The UI of the FM tuner is the most interesting thing I have seen. You see that little black thing to the right? That's supposed to simulate a tuning wheel on old fashioned FM radios. You have to move that up and down to find a station.
Music playback is fairly standard, supporting formats like MP3, WMA, OGG and others. For videos, you don't have to convert them to play them on the Phantom. You can drag and drop videos and play them straight away. The device came preloaded with a one minute clip of the open-source CGI animated short, "Big Buck Bunny", in 720p HD. The device does have an mini-HDMI output so you can connect the Phantom to your TV set.
The Phantom also comes with a removable stand that you can clip on to the player, so you can sit the player upright on a surface and watch a video.
There are a few things I have yet to test out. I need to load my own videos onto this device and see how they play, and I still have to find out how long the battery lasts. I shall report those here once I am done testing them.
Finally, in regards to build quality...it's very good. The unit feel cheap at all and it has a good weight. The included stand kind of does feel cheap though, and you have to be careful when setting it up.
But, I believe it may well be a good successor to the original Pinch. She's not entirely the same model, but a good enough device to get the "Pinch v2" name.