Meet Audrey...
...and her current Desktop picture.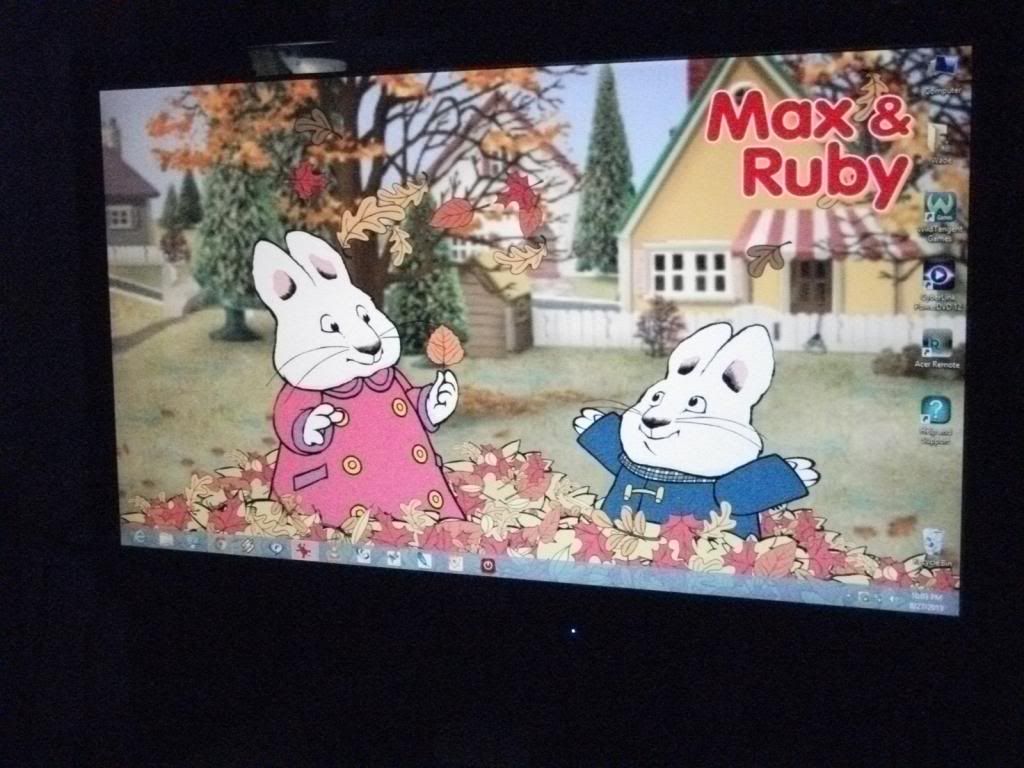 Named after this Audrey from the obscure-in-the-US "64 Zoo Lane".
Audrey is a Gateway DX4375G-UW20 ATX tower PC with the following specs:
-
AMD A6-5200 APU with integrated Radeon HD 8400 GPU
-
Windows 8
-
500gb Hard Drive
-
6gb DDR3 RAM
-
DVD-RW Drive
-
Two USB 3.0 ports and six rear USB 2.0 ports
-
Integrated Realtek audio and ethernet
-
One PCI-e x1 and one PCI-e x16 slot on motherboard
Performance wise, Audrey has been wonderful. The quad-core processor is really a step up from Lilly's dual-core Intel Core i5, even though an AMD APU like the A6-5200 is technically below or around Intel Pentium or Core i3 processors. I can actually run multiple apps for long periods without slowdown, even my Adobe Suite. I still wonder why Lilly would basically collapse under the weight of iPhoto or iMovie, even though she has 8gb of RAM and a dual core i5. Perhaps it's OSX becoming bloated, but who knows? Anyway....
I mainly got Audrey to perform multimedia tasks with my Adobe Production Studio suite, namely Photoshop and Premiere Pro 2.0. I used to use these programs with Greta, who is also capable of running the suite, but being a laptop I sometimes worried that the intense processing of videos would be too much for her over time due to heat. Also, Adobe programs can have very limited viewing space on a 1366x768 screen. Audrey's 1600x900 monitor makes these programs more useable. Another neat feature is the two front USB 3.0 ports. Lilly has Thunderbolt, but there aren't really many affordable data storage solutions that use it. USB 3.0 is a more affordable solution, and now I just need that Toshiba 1TB USB 3.0 external disk.
Audrey came with Windows 8 pre-installed, and although I previously had some distrust for Windows 8, I'm actually starting to warm up to it now. I still think the Start screen is best used on a touch screen or tablet, but the desktop performs like the one in Windows 7 minus the Start menu, and I use it the most. I haven't really tried any Metro apps yet, and don't really plan to besides using the Start screen to open various apps I pin to the menu like Notepad or Paint.
As for included bloatware, it's mainly limited to Metro apps, and there are very few preinstalled desktop apps. The ones that did come preinstalled were the usual things like CyberLink PowerDVD 12, WildTangent Games, and Norton Internet Security. Even so, there is very limited bloatware, and as usual, you can easily remove unwanted software. However, they didn't have any CD/DVD burning software preinstalled. I assume they want you to use the built in Windows CD/DVD burning features for backing up data, but those tools are somewhat limited compared to a suite like Nero or Roxio.
One issue Audrey does have is a potentially buggy UEFI BIOS, which causes various kinds of issues with sleep and hibernation, making Windows 8's Fast Boot and Hybrid Sleep useless at the present time. You also need to press power three times to turn Audrey on. Other than the buggy UEFI, the system performs well without any glitches, errors, or BSOD's, and can be run for hours on end to boot. Hopefully Acer will put out a UEFI update in the future.
So far, Audrey has been wonderful. If only Acer could fix the UEFI BIOS, then she would be perfect.

And she is upgradeable too! A welcome addition to Eisbar Corner.
As for Lilly, I'm keeping her for Mac-related tasks and to occasionally build visual effects in iMovie, using GarageBand, or using MacNTalk. I do need a separate monitor for her though as I'm currently using my old 21'' HDTV as a monitor, and it doesn't have a good optimum resolution and the backlight is a bit weak.
I love foxes, especially the one in my avatar.